What gear does Chris use while on-stage?  Here's where you can see what products Chris uses and recommends while performing.
NOTE: Some of the links below may be affiliate links, whereby Chris earns a commission for any items purchased.
BOSS VE-2 Vocal Harmony Effects Pedal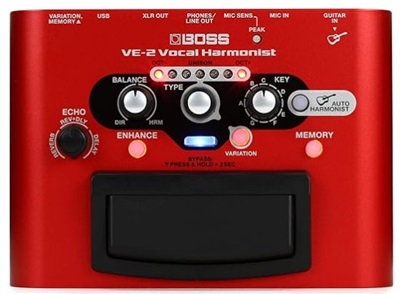 The BOSS VE-2 Vocal Harmonist effects processor proves that you don't have to drop a ton of cash or lug around a pedalboard-sized gadget to get the vocal processing you really want. This amazing little pedal packs a punch and has several uses.  You don't really even have to know much about music theory to dial in the perfect harmony or effects, and with a push of a button, you'll get instant studio magic. Plug in a guitar, and the VE-2 becomes more impressive still, using the chords you play to determine the harmonies it creates. What's more, you can run the VE-2 on just four AA batteries for totally portable operation, and USB connectivity even lets you take your favorite vocal effects into the studio.
---
D'Angelico Premier Acoustic-Electric Guitar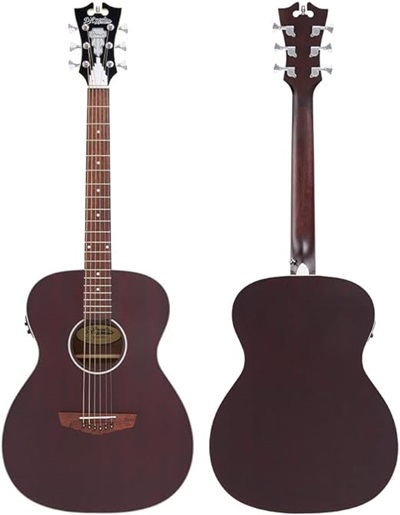 Featuring a notably comfortable body size and a slim C-shape neck profile, the Tammany LS guarantees comfort for every player. Its warm, balanced tone is clear across all six strings, while its onboard preamp and tuner makes on-stage amplification and performance simple. The perfect accompaniment for singer-songwriters or solo strummers, the Tammany LS is bound to be a series stand-out. Slightly shallower upper bout depth and tapered shoulders offer remarkable comfort and contribute to the warmth of the Tammany's tone. Designed to translate and amplify each guitar's natural tone, the D'Angelico Preamp and Tuner features onboard EQ, volume and an LED tuner.
---
AirTurn DUO500 Silent Bluetooth Pedal Page Turner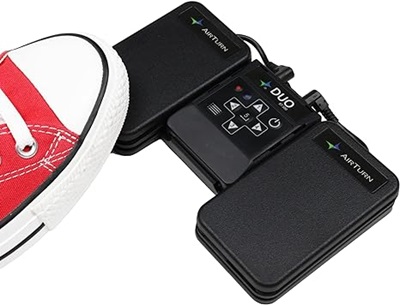 Sleek, silent, and professional wireless foot switch.
Turn pages, read music, scroll lyrics and tabs
 
Control presentation and teleprompter apps
 
Cue audio and effects
 
Capture video, photos, and more!
Featuring silent-tactile switches, the AirTurn DUO 500 is virtually indestructible and designed to outlast any mechanical switch. The versatile, sleek, and simple design is an excellent choice for all types of users. It has become the consumer's Bluetooth pedal of choice due to its high-quality and long-lasting design.
---
Shure SM58 Microphone

If you've ever heard someone sing or speak into a live microphone, there's an excellent chance it was an SM58. Rock stars. Pop idols. Comedians. Presidents. Popes. Immortal words have passed through its iconic grille for generations. And with engineering and durability that set the world standard, it's sure to keep turning up at legendary performances. The Shure SM58® is a unidirectional (cardioid) dynamic vocal microphone for professional vocal use in sound reinforcement and studio recording. A highly effective, built-in, spherical filter minimizes wind and breath "pop" noise. A cardioid pickup pattern isolates the main sound source while minimizing unwanted background noise. The SM58 has a tailored vocal response for a sound which is a world standard. Rugged construction, a proven shockmount system, and a steel-mesh grille ensure that even with rough handling, the SM58 will perform consistently. Outdoors or indoors, singing or speech, the SM58 is the overwhelming choice of professionals worldwide.